we're dirt(y)
why I got dirt(y)
Simon Bryant | I'm a chef, no longer the Exec Chef at Hilton Adelaide which was home for around 10 years, but I'm still rattling pots and pans around. I'm a sometime television presenter (with that force of nature and all round good food, Barossa girl Maggie Beer) on the ABC's "The Cook and The Chef." We knocked out over a 150 episodes of the series, but I have hung my clogs up from TV for a while.
Before all this I was in Melbourne where I started cooking twenty-odd years ago. Thai and Indian (my first cooking gigs) will always be sentimental favorites on my menus. I love the economy of, and the explosive but harmoniously balanced flavours of both these cuisines. I still cook a lot in this style for my home meals.
I moved to Adelaide shortly after Cheong Liew made The Grange Restaurant his home. I had flown over one night to eat his menu (still one of the most memorable meals I have ever had), and pretty soon after had a job in the Hilton kitchens.
It took a while to get into The Grange Kitchen but I ended up as a Chef De Partie in the meat section and was introduced to Cheong's classic French technique and a myriad of Malaysian/Chinese flavours.
As far as describing a food philosophy, these days I just want the most ethically sourced, local and fresh ingredients. I reckon my job is just to get these onto a plate with the minimum of fuss and let the produce shine.
Forget about chefs getting all the limelight for a moment, it's about the product and the producer these days for me. The chef is just a vehicle to get their hard work on the plate. If you grow your own food I am sure you will agree, you just want to cook simply and honestly to do justice to the amazing flavour that good produce exudes.
Being able to cook for someone is one of the nicest thing you can do, but (and this is a big BUT) the choices you make when you shop are as important to me as the cooking.
Outside of my day job I'm a semi-competent, home-organic-gardener; a committed vegie eater; and now a (sometimes) purveyor of the stuff I cook with. Which means you can get your hands on some of the best produce in Australia and cook dirt(y) at home...
the three "legumeers"
There's a fair bit that goes on behind the scenes before our lentils end up on your plate, so in 2016 and 2017 two more big dirt(y) boss people joined the business; Mark a grower on the Yorke Peninsula who does all the magic with the seeds and dirt; and Janette who makes all the day–to-day stuff happen.
Mark Schilling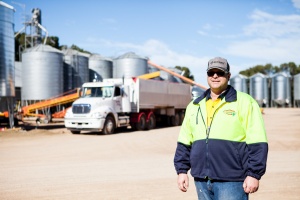 Although Mark is quite the entrepreneur and runs several successful operations based on the Yorke Peninsula, he definitely feels more at home on a tractor than in an office… But we try to drag him away from the dirt every now and then to meet our customers and talk dirt(y).
The Schilling Family are third generation agricultural producers who have a strong affiliation with the land and feel a genuine responsibility to act as custodians for future generations. Mark is a keen supporter of sustainable farming practices and has focussed on using the latest agricultural technology to improve his operation.
It was clear that Mark's respect for the land, use of cutting-edge technology and equipment including advanced pulse cleaning processes and high standards not only resulted in his produce establishing itself as the core of the dirt(y) range, but made him an obvious choice to become part of the business.
Mark runs his own farm in Cunliffe where he (lives), grows and processes (sorts and makes squeaky clean) our kabuli chickpeas, unhulled red lentils and pearl white peas. Mark collaborates with a network of other local farmers that share the same growing principles and have product showcased in the dirt(y) range.
Janette Schulz
The third bit of the puzzle was Janette (who used to boss everyone around at the Hilton and then become my assistant). We don't know exactly what Janette does as she can't cook or grow anything, but she's good with the 'puter and loves a good dirt(y) chat.
But we do know she spends a fair bit of her time getting the lentils from the farm to you… Yep it sounds easy but requires a fair bit of sorcery and some help from the busy people at Barkuma who pack our stuff, and our fantastic distributors in Adelaide and Sydney. Janette musters up a crew of manufacturers who produce our labels and packaging (in Australia!!!) and wherever possible recycled and sustainable materials.